Althorne
We deliver To Althorne, Essex CM36
Free Delivery To Althorne
"We deliver to Althorne* free of charge as long as your order comes to £10 or over including any discounts we may have given"
Please Note:
Delivery times are a guide only. You'll be given a more accurate estimate when you order.
*Orders for St.Lawrence, Tillingham, Fambridge and Bradwell will be dealt with on a case to case basis.
We may be unable to deliver to these areas on certain nights
Payment
Most credit and debit cards are accepted over the phone and online
NO £50 notes will be accepted at the door unless agreed prior to placing your order.
NO cheques. If your bank won't guarantee them, neither will we
Drivers only carry a maximum of £10 change at any one time.
Having a party?
Discounts avaliable for large orders booked in advance.
If you can, please ring at least a day in advance to discuss discounts and timings
Delivery Area for this tier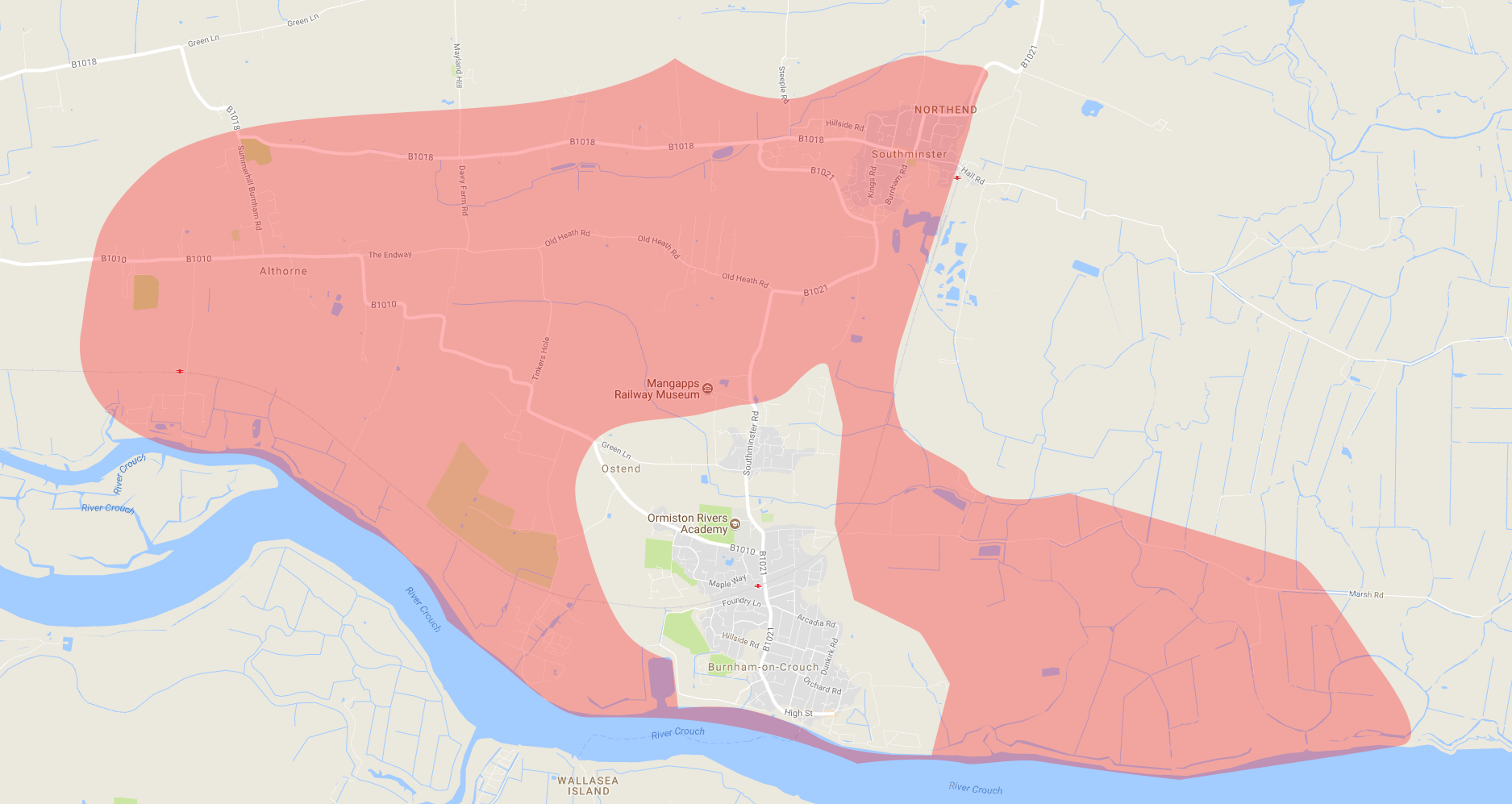 About Althorne
Althorne is a village and civil parish in Essex, England. It is located 21 km (13 mi) east-southeast from the county town of Chelmsford. The village is in the district of Maldon district and in the parliamentary constituency of Maldon & East Chelmsford. The village has its own Parish Council.
The civil parish has a population of 1104.
Althorne is on the Dengie peninsula, about 5 km (3 miles) north-west of Burnham-on-Crouch. It is approximately 3 km (1.9 mi) north-west from the centre of Bridgemarsh Island in the River Crouch. The village of Althorne is connected to London, by the Southminster Branch Line, operated by Greater Anglia, which links Wickford to London Liverpool Street Station. The railway station is Althorne railway station, though the station itself is cut adrift from the main village, only accessible from a long and steep track leading up to the edge of Althorne. There are no A roads close to the village - the main roads being the B1010 to Burnham and the B1018 road from Maldon to nearby Southminster.
Population of Althorne: 1,104 (2001)