St Lawrence
We deliver To St Lawrence, Essex CM07
Free Delivery To St Lawrence
"We deliver to St Lawrence* free of charge as long as your order comes to £25 or over including any discounts we may have given"
Please Note:
Delivery times are a guide only. You'll be given a more accurate estimate when you order.
*Orders for St.Lawrence, Tillingham, Fambridge and Bradwell will be dealt with on a case to case basis.
We may be unable to deliver to these areas on certain nights
Payment
Most credit and debit cards are accepted over the phone and online
NO £50 notes will be accepted at the door unless agreed prior to placing your order.
NO cheques. If your bank won't guarantee them, neither will we
Drivers only carry a maximum of £10 change at any one time.
Having a party?
Discounts avaliable for large orders booked in advance.
If you can, please ring at least a day in advance to discuss discounts and timings
Delivery Area for this tier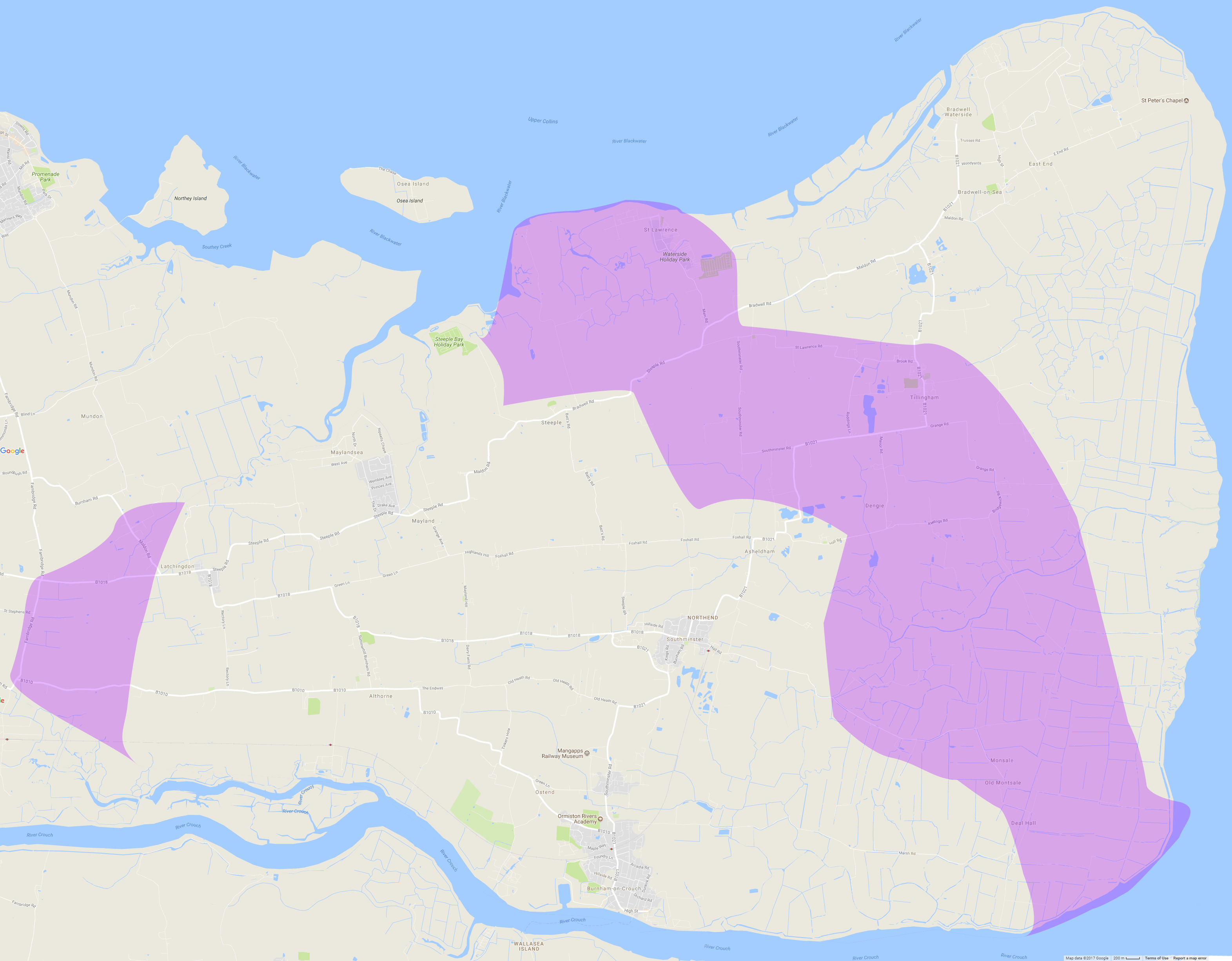 We also deliver to Waterside Holiday Park, St Lawrence
About St Lawrence, Southminster, Essex
St Lawrence is a parish in the Maldon district of Essex in the East of England on the Dengie peninsula. The village of St Lawrence Bay, which takes its name from the parish, is situated on the south shore of the Blackwater Estuary, 4 miles (6.5km) from Southminster and is also known by local residents as 'Stone'. The village contains areas known as Ramsey Island and St Lawrence Bay.
The village has a single access road leading down to the estuary shore and has seen recent expansion and the construction of new housing due to its riverside location and proximity to Southminster railway station, which provides a fast commuter service to Liverpool Street Station in the City of London. Also with bus links via the D1 allowing for access to Bradwell-on-sea and Maldon where other bus links are available.
There are a small number of businesses in the village including two pubs called 'The Stone' and 'St Lawrence Inn' and a single shop which also provides Post Office services. In the summer the population of the area swells due to tourism, with the presence of Waterside Holiday Park which holds many open days for local residents and its visitors, plus with many second homes the area becomes a retreat for many. The Blackwater Estuary also provides a good location for water sports and there are two clubs which provide facilities on the waterfront; Stone Watersports Club and Stone Sailing Club. In 2012 St Lawrence opened a village hall which hosts various social clubs.
The area also has many more outdoor pursuits from rambling to triathlons and road cycling.
The village is protected from flooding by a sea wall which was reinforced in the nineties due to increased flood risk in the east of England. This provides a footpath along the south bank of the estuary with good views of the surrounding countryside. Also located at intervals along the sea wall are Type 2 pillboxes that were built to defend the estuary during the Second World War.