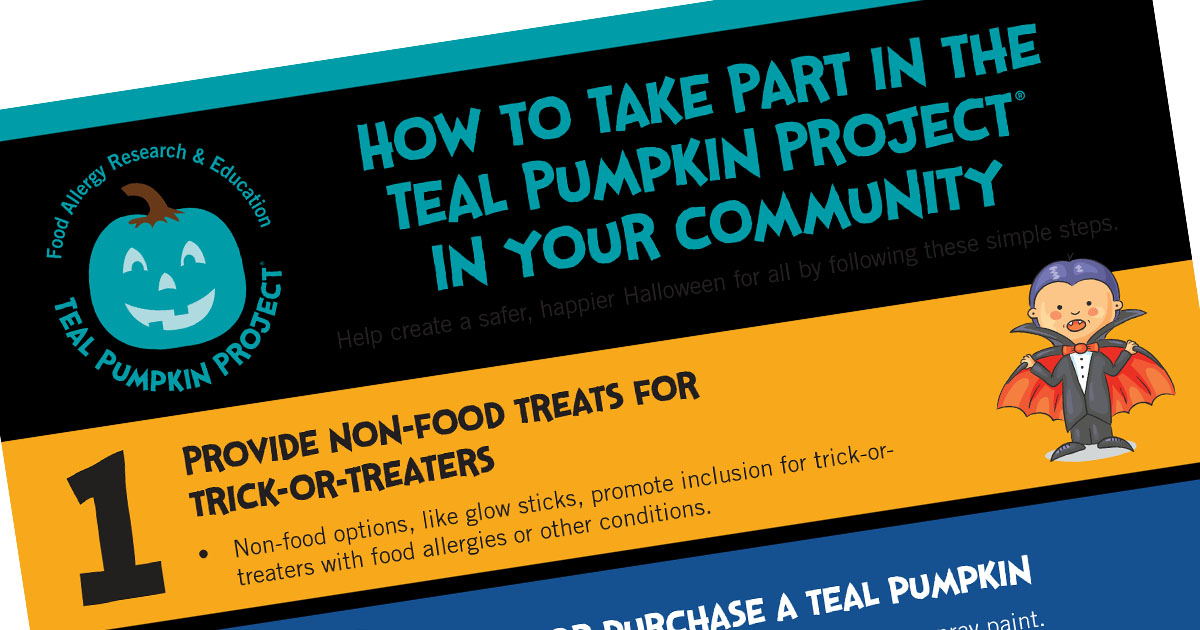 An allergy free halloween - Article
It's that time of year again, and if you like to get involved but you have an allergy child, it can be a bit tricky. The Teal Pumpkin Project launched as an international campaign in 2014 by Food Allergy Research and Education (FARE), provides an alternative for kids with food allergies, as well as other children for whom sweets is not an option, and keeps Halloween a fun, positive experience. Participating in the campaign is as simple as painting a pumpkin teal, buying inexpensive non-food treats such as glow sticks or small toys and placing the teal pumpkin on your doorstep to show non-food treats are available.
The Teal Pumpkin Project
Ideas for non-food treats
Available at pound shops, party supply stores, or online shops, these low-cost items can be purchased and handed out to all trick-or-treaters, or made available in a separate bowl from sweets if you choose to hand out both options. Nearly all of these items can be found in a Halloween theme or festive colors.
Glow sticks, bracelets, or necklaces
Pencils, pens, crayons or markers
Bubbles
Halloween erasers or pencil toppers
Mini Slinkies
Whistles, kazoos, or noisemakers
Bouncy balls
Finger puppets or novelty toys
Coins
Spider rings
Vampire fangs
Mini notepads
Playing cards
Bookmarks
Stickers
Stencils
Things to avoid
There are a few considerations when choosing which non-food items to hand out. First, some non-food items still contain food allergens, such as some brands of moldable clay, which may contain wheat. We can confirm Play-doh contains wheat, so this is a no-go for an allergy-free halloween treat. Additionally, try to choose latex-free items, as there are children who have latex allergies.
Can I still give out sweets?
Of course - just do it safely! The point of the Teal Pumpkin Project is to make trick-or-treating as inclusive as possible, not exclusive. You can keep the experience safe by keeping your food treats and non-food treats in separate bowls.
How to get involved
Do you want to help spread the Teal Pumpkin Project's messages of a safer, happier Halloween for all? It's really easy, just load up on non-food treats, paint your pumpkin teal and pop it on your doorstep.
Don't forget to use the hashtag #tealpumpkinproject when you talk about the subject to help raise awareness
Resources
You can grab all your resources from the official FARE page. We hope you have a happy and safe halloween from all at Pizza Island